Chow—Reinventing your common hawker sight.
Economic rice—a common sight, often found in hawkers of Singapore where customers get the freedom to select their combination of dishes accompanied by a portion of rice. It has been around for a long time and is loved by many. 
However, as times have changed, more millennials eat out in hopes of looking for broader options with unique and new experiences. Deemed as boring and traditional, there has been a decline in millennials consuming economic rice. To reframe this perception, a new economic rice brand has to conceptualise and targeted at millennials.
To stand out in the space of modern eating experiences, Chow reinvented the common hawker sight into a modern, fast & casual eatery. A brand that is unique and offers fast and casual food that is tastier, healthier and customisable. Offering a modernised experience, look and presentation, while still ensuring that authenticity and tradition are not compromised.
The brand is designed to be clean and minimal style, paired with a welcoming and approachable tone. Chow is honest. Chow is sincere. And Chow truly cares about providing nourishing meals for your body.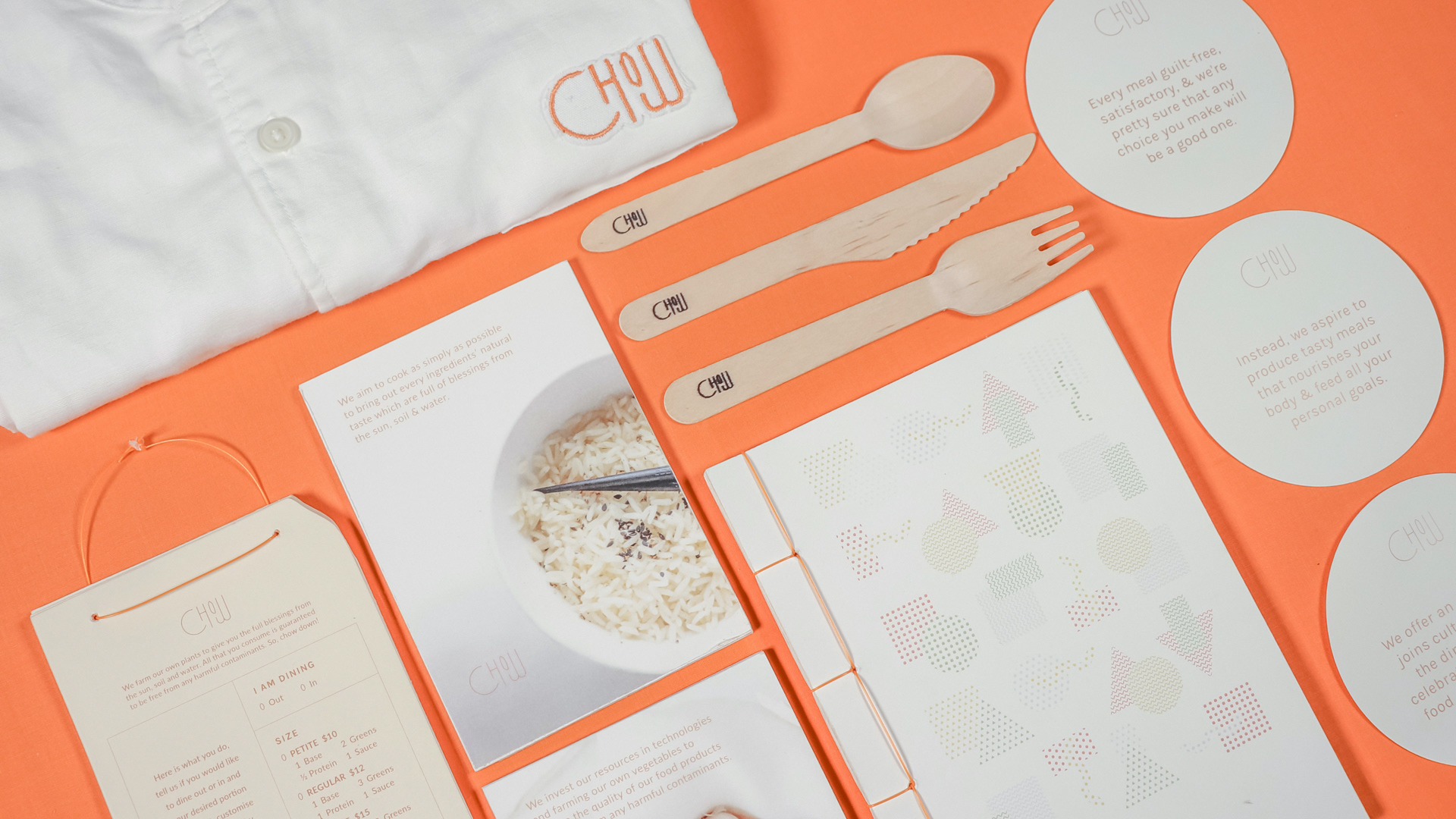 Breaking into the scene of modern dining experiences, the goal is to make Chow stand out by creating a brand that gives millennials exactly what they want in their food—honesty. 
Chow is positioned as the sleek, stylish and sociable cousin that you always feel good after having a chat with.
Understanding the needs & wants.
Millennials are leading the change in the food revolution as they seek new and unique experiences to sink their teeth into. As a generation that is better informed and educated, they are willing to go the extra mile to get what they perceive as the best value for their dollar.
Chow developed a strategy that millennials resonate with while seeking new experiences. An affordable, fuss-free and wholesome eatery. The brand aims to bring a balanced meal filled with blessings from the sun, soil & water.  
This strategy is then rooted in Chow to help develop brand assists that enhanced the entire experience.
A friendly & honest identity system.
Taste is regarded as the soul of Chinese food—it's said that harmony of The Five Tastes not only improves taste enjoyment but also promotes health, treats diseases and even aids recovery from injuries. 
The Five Tastes of Chinese food are categorised into these flavours: salty, spicy, sour, sweet & bitter. 
The balance of tastes inspired the graphic language of Chow, consisting of minimal illustrations, friendly type choices, vibrant colours and clean photography. Each element ties in and compliments each other to create a brand story with a breath of fresh air.
Creating coherent, versatile & customisable brand elements.
The strategy for Chow is to find balance and bring life into The Five Tastes. This was formed by joining together fresh produce, bold flavours, traditional profiles, all in the name of healthy eating. 
Each one of The Five Tastes has its colour, shape and benefit different organs in the body. In the brand graphics, they are overlapped and paired with one another to show the endless possibilities and combinations that you have at Chow.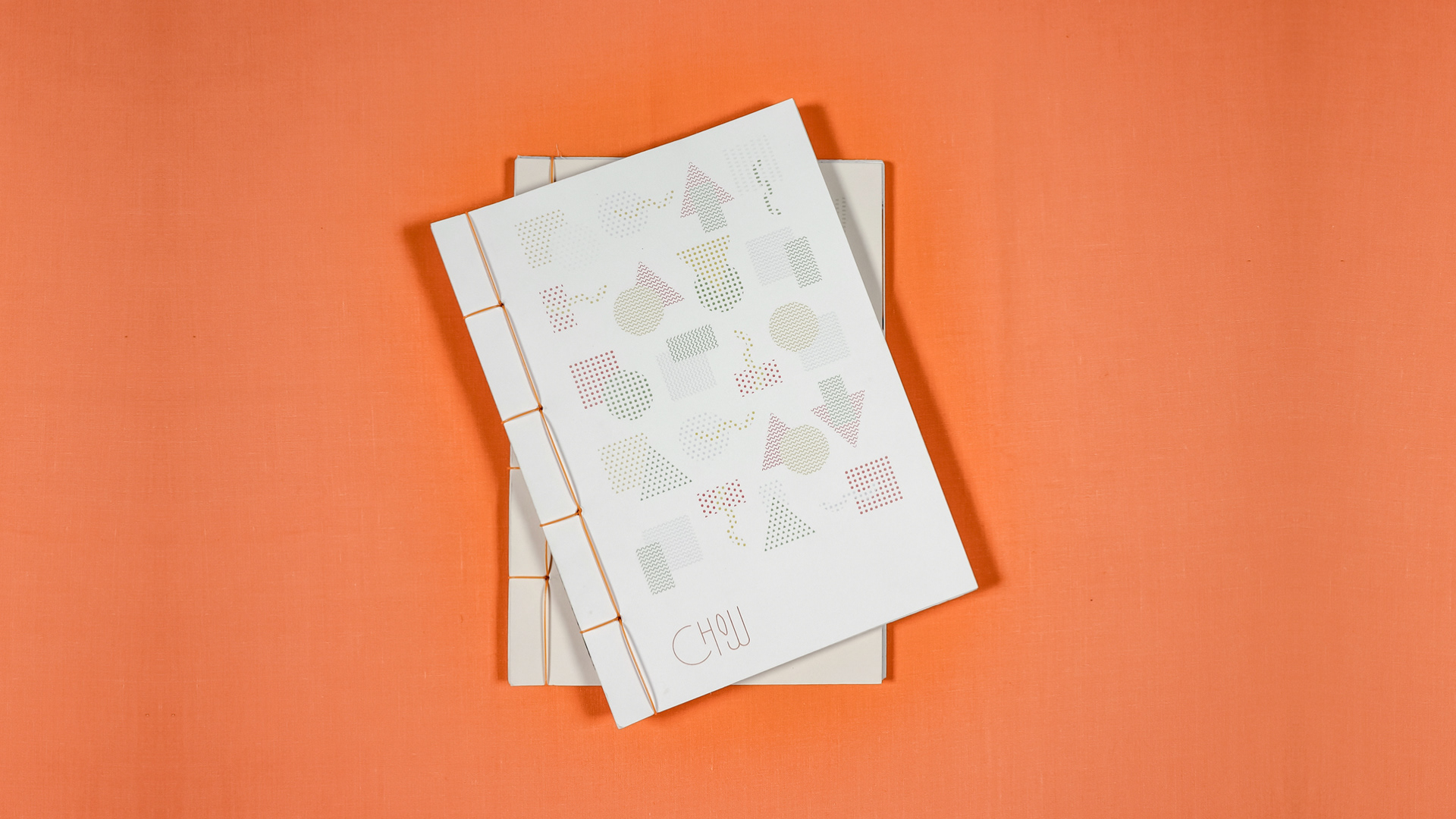 In August 2018, the country's Prime Minister nominated Singapore's hawker culture on the intangible cultural heritage list to "help to safeguard and promote this unique culture for future generations" as it has shaped the Singaporean identity in many ways.
The same culture is brought into Chow, creating a meaningful and sentimental brand.
Integrating Singapore's hawker culture through various brand elements.
Hawkers are an integral part of the way of life for Singaporeans and resonate strongly with locals across all races and social strata, showcasing Singapore's rich and diverse culture on the international stage. 
The essence of these hawkers has transcended into Chow through the packaging design. Drawing inspiration from takeaway packaging in Singapore hawkers, white cardboard boxes are modernised to create a convenient and fuss-free experience for customers.
A form that is functional, practical & meaningful.
The percentage of eating out has also increased significantly as people start to think about cost efficiency and convenience, making food-on-the-go the primary option for millennials.
In line with Chow's mission of bringing high-quality and nourishing food to consumers, the packaging is in a unique pentagonal structure, inspired by The Five Tastes.
An environmentally-friendly packaging solution with less waste.
Besides being the face of a modernised economic rice brand, Chow's packaging is practical, unconventional, and eco-conscious. The efficient and versatile packaging makes it ideal for both producers and consumers even for hectic and fast-paced eateries.
Stackable boxes maximise storage with interchangeable compartments allowing consumers to customise their meals with room for 4-6 options. Each compartment is measured to ensure that they fit even when numbers change. To top it off, every meal is packed with recyclable cutleries, enclosed with a seal.
Printed booklet for customers to learn more about Chow.
Similar to the takeaway boxes, takeaway drink packets are a common sight in hawkers in Singapore. The same polythene strings bind our publications along with a saddle stitch, a traditional binding method used by the Chinese in the past.
The publication consists of various features such as cut-outs and inserts to make the print interactive and engaging for customers to flip through while waiting for their meals.